Narita Fast Track
Airport Meet and Assist
VIP Assistance at the Narita airport (NRT) in Tokyo.
CHECK PRICE
BOOK NOW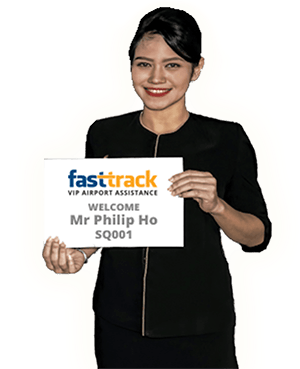 Narita Airport Meet & Assist services for any traveler, on any airline, in any cabin class.
Narita Airport Meet and Assist will make passing through the airport fast and easy. Japan has some of the busiest airports in the world, and Narita is one of them. Our local greeters help with the lines making for a quick arrival, a smooth departure, or a successful connection.
Fast Track's service in Tokyo Airport NRT, (and HND & KIX) adds a first class feel. It includes an airside greeting and help through border controls. Before you fly our rez team will help you select the exact service you need.
Meet & Greet service in Narita NRT airport in Tokyo, Japan
On arrival Fast Track's English speaking greeters will meet you near the air bridge. They will assist you through any passport or visa control, and escort you to the baggage and customs area. They will help find your driver, or if you booked a connection, check in for your next flight.
On departure, they will contact your driver, will assist you through check-in and immigration, and will take you to your airline lounge or the boarding gate.
For connections, the greeter will meet you near the air bridge and will guide and escort you through the arrival, departure and transfer processes needed for your connection, right through to your airline lounge or the gate.
For more than 10 years our Japan Airport Assistance and Booking Team has assisted thousands of travellers pass smoothly through busy airports. Before you book, Fast Track's tools and expert staff will help you understand and choose the exact service you need at the lowest possible cost.
Fast Track services are available to any traveler, on any airline, and in any cabin class, and in all major airports around Asia, the Middle East & Africa.
In Japan we serve the airports of Narita and Haneda. And also Osaka Kansai airport. We offer travelers VIP meet & greet concierge assistance in each of those airports' international terminals.
Tokyo has 2 airports, Narita International Airport (IATA code NRT) and Haneda International Airport (IATA code HND). Both handle international and departure flights.
Narita NRT Airport is well connected with central Tokyo by road and rail. It can be reached by rail using the "Narita Express" and the journey time is around one hour.
It can also be reached by JR Sobu Line (around 90 minutes) with one train per hour and by the Keisei Skyliner (around two hours) with 2 trains each hour.  Limobus is a good method to get into and out of Tokyo are a reasonable cost, and very comfortably. Taxis can be taken but the ride into the city will cost more, from 20,000Yen.
If you have time on your hands the airports App (search for Narico – Narita Concierge) will give great advice. It can be used on Android and iOS. Also the NariTra app will try to translate anything spoken to it into another language.
There are 90 restaurants, cafés and bars, most of which offer local food and drink as well as international fare. The Narita Dining Terrace in Terminal 1 has six Japanese restaurants specialising in many types of food from soba & sushi to "sets" and dashi-chazuke.  The restaurant open between 08:00am and 20:00pm, some are open later. In Terminal 3, there is a traditional sushi bar called Tatsu Sushi where you can watch your meal being prepared. There are also halal and vegetarian options available in the airport
For shopping there are many tax-free shops selling Hokkaido Shiroi Koibito cookies, Kyoto yatsuhashi (delicious cinnamon-filled mochi) and Tokyo Bananas.
If you have spare loose change eg ¥100 coins, you can use them to buy 'Gacha' (bubblegum ball machines now offering cheap toys in capsules containers). In the basement of Terminal 2, there are more than 100 of these machines where you can use up your coins (and the instruction come in different languages too)
The Narita Sky Lounge Wa in Terminal 2 is free to use, Narita Airport has its own capsule hotel available by the hour and with showers